Welcome to the Fish Eggs' Website!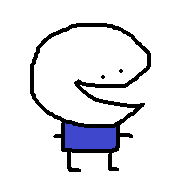 It looks like you have successfully stumbled and fumbled you way onto my site, and as reward I will properly welcome you. My name is Fish Eggs, my pronouns are he/she/they, I am an oriented aromantic asexual maybe agender individual. My hobbies include gaming (usually nicher titles, programming with GameMaker and making art in MSPaint. I am currently thinking about Minit.
Also check it out I've got my very own button, pretty cool right? You've got my full permission to slap this on your website if you so desire.

While we're on the topic of buttons, check out these other buttons I have accumulated starting right now.





And because I can here are links to the websites of buddies that I think that you should check out because they are very cool
These are games and other stuff I have obsessed over already or simply really enjoyed and would be happy to talk about
Nuclear Throne
Voidigo
Enter the Gungeon
Monolith
Minit
Sea of Thieves
Bloons TD 6/Battles 2
Psychonauts 1 & 2
Space Station Silicon Valley
Glover
Super Mario Sunshine
Wario Land 4
Rayman
Nintendo Land
Voodoo Vince
Pac-Man World 1 & 2
Worms
Plants Vs. Zombies franchise
Team Fortress 2
Family Guy
Planet Heroes
WarioWare
Rick and Morty